old forester bourbon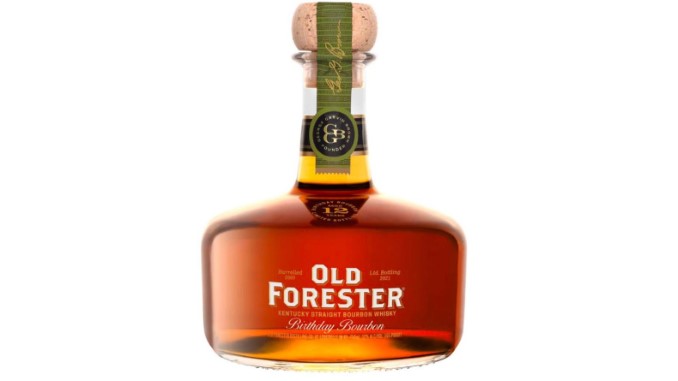 old forester bourbon
Manufacturer's Notes: Old Forester annually releases an expression of its highly acclaimed bourbon to celebrate the September
2nd birthday of its creator, George Garvin Brown.
This year marks the 17th limited edition release. Selected from a single from a single day of production and handcrafted by
Master Distiller Chris Morris and Master Taster Jackie Zykan, this limited edition small batch bourbon is vintage-dated, offering a
one-of-a-kind character and flavor profile that will never be replicated.
This whisky is distilled by us only, and we are responsible for its richness and fine quality. Its elegant flavor is solely due to original
fineness developed with care. There is nothing better in the market.
Color: Rich Mahogany
old forester bourbon
Nose: Singularly focused initially, with a pronounced rich dark cherry cobbler note; opens into a dynamic build of caramel and
dark chocolate covered smoked almond nuttiness with hints of charred oak; a touch of herbal lemon tea, sweetened with a touch
of honey rounds out its depth of character
Taste: Subtle sweetness blossoms into a warm and green spiced multi-dimensional experience, brightened by a lemon honey
note followed by cherry cobbler
Finish: Long and drying, with an herbal lemon honey sweetness
old forester bourbon
old forester bourbon
The 2021 Birthday Bourbon will be bottled at 104 proof and is made up of 119 barrels, aged 12 years, and barreled on April 16,
2009. After showing exceptionally unique character during a tasting panel, the 12-year-old barrels were chosen specifically for this
year's Birthday Bourbon.
APPEARANCE – Rich Mahogany.
NOSE – A beautiful symphony of berry and dessert components. Red raspberry preserves join plump, juicy blackberries and
dried strawberries to set the tone, nestled in a bed of dried herbs and balanced with vanilla creme brulee, subtle pecan, rich
maple syrup, and cocoa.
PALATE – Rich and inviting, the velvety mouthfeel carries notes of buttery caramel, burnt sugar, and a touch of fresh baked linzer cookie. This silky palate quickly awakens into a bright, peppery, peripheral spice.
FINISH – Lengthy and warm with subtle dryness. Subdued notes of chocolate, raisin, and cool herbs linger in the shadow of stark oak spice.
104 Proof
old forester bourbon